With a Ryan Murphy–size budget and a certified-authentic ballroom imprimatur, Pose packs in more culture per episode than most shows do in a season. And while meticulously crafted series like Stranger Things and GLOW act as nostalgic monuments to their eras, Pose is a living history; a celebration of the music and fashion that defined life in ballroom, which, in turn, reverberated (and still reverberates) throughout the larger cultural consciousness.
To help understand the historical significance of the show's set pieces, social mores, and lewks, we're breaking down some of the key cultural references of every episode of season two, with some suggestions for further reading on everything from Coming to America to the history of poppers. Here's where you can catch up on the music, movies, and history that make up the rich history of NYC's ballroom scene in 1990.
Episode One: "Acting Up"
Season two begins with a time jump to 1990 and frames the release of Madonna's "Vogue" as a similar moment of reckoning to what today's queer underground, and indeed the cast of Pose, is facing: When the larger culture sniffs blood, is it possible to cash in without selling out? As Blanca predicts, "Vogue" put ballroom on the map, with legends Jose and Luis Xtravaganza joining Madonna onstage for her legendary September 1990 VMAs performance.
"Acting Up" is largely concerned with the ballroom community's response to the AIDS crisis, and re-creates ACT UP's 1989 die-in at St. Patrick's Cathedral. For a deeper understanding of ACT UP's work, the 2012 documentary How to Survive a Plague (available for digital purchase/rental) offers a comprehensive, harrowing chronicle of AIDS activism in NYC, detailing how the movement pummeled the pharmaceutical industry and media to start researching effective treatments.
And for a glimpse of how commerce, mainstream pop culture, and the queer black underground converged in the age of AIDS, watch Susanne Bartsch: On Top (available on Netflix). Revered as the grand sphinx of NYC nightlife and the Club Kid milieu, Bartsch became a key culture warrior in the battle against AIDS. The documentary recounts the 1989 Love Ball, which raised over $2.5 million for HIV/AIDS charities, attracted guests like Madonna, and featured performers from the vogue scene.
Additional text: 
1990 saw another coupling of underground NYC culture and mainstream sensibilities in Sandra Bernhard's 1990 HBO film Without You I'm Nothing. Filmed when Bernhard was at the peak of her provocateur powers, Without You I'm Nothing tears through disco, cabaret, and black culture, with riffs on Burt Bacharach and Diana Ross. Like "Vogue," Without You I'm Nothingmay read as problematic in 2019, but it's nonetheless another striking example from the era of a highbrow production by a white woman that takes root in underground black culture. Bernhard starts as a full cast member with this episode of Pose; she's back in her kingdom exploring this period of NYC history.
Episode Two: "Worth It"
Though Angel is a rare star, her dream of supermodel immortality was common of the age: Between roughly 1988 and 1992, models were the contemporary equivalent of Instagram influencers. As Christy Turlington, Naomi Campbell, Linda Evangelista, Cindy Crawford, and other cover girls became full-fledged institutions, millions of women sought to break out at competitions like The Look of the Year.
The documentary Casablancas: The Man Who Loved Women (available on Netflix) chronicles the feverish boom of the era. John Casablancas founded Elite, the agency that has represented Iman, Cindy Crawford, Stephanie Seymour, Paulina Porizkova, and Linda Evangelista. Though the documentary is narrated from a typically chauvinistic late-20th-century male gaze, it's still an excellent first-person account of the "model wars" of the '80s and supermodel boom of the early '90s. Skip past the romanticized accounts of womanizing and gambling for fabulously shady footage of legends like Eileen Ford, Janice Dickinson, and Naomi Campbell.
Additional text:
This episode features no fewer than three separate ball scenes, but the high-fashion feather ball near the end of "Worth It" is arguably Pose's most spectacular costume showcase to date, with references to a different designer on nearly every competitor. Blanca serves Versace; the children of the House of Wintour vogue like angels from the heavenly gates of Margiela; and Elektra gives a shell-shattering Venus that puts ARTPOP-era Lady Gaga to shame. As always, Billy Porter stands out, this time in a gold satin blouse and jumbo zebra fez that evoke the abundant fabrics and wildly embellished designs of Coming to America. The 1988 Eddie Murphy–Arsenio Hall classic was nominated for an Oscar for costume design and still holds up: Designer Deborah Nadoolman Landis's designs remained so influential that Lupita Nyong'o and Danai Gurira threw a "Wakandans in Zamunda" party during the filming of Black Panther.
Episode Three: Butterfly/Cocoon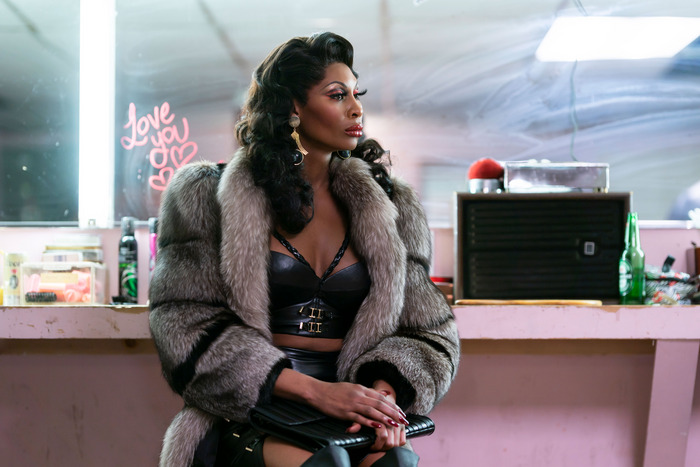 Leave it to Elektra to play Janet Jackson's "Black Cat" while cock-destroying a wealthy white yuppie. If only he'd paid better attention to the lyrics: I'm tryin' to tell ya boy / It's a mistake / You won't realize / 'Til it's too late …
"Black Cat" came off Jackson's massively influential Rhythm Nation 1814, a socially conscious experiment that became the best-selling Stateside album of 1990. Though record executives had pushed for a more personal album that would react to the endless scandals of her family, Jackson envisioned Rhythm Nation 1814 as a utopian vision of musical community. The album addressed substance abuse in the black community, the Stockton playground murders, and other social issues of the late '80s, though perhaps with less literalism than Pose.
"Black Cat" was Jackson's first foray into arena rock, and, as you'd expect, she slayed, earning a Grammy nomination that made her the only artist in history with nominations spanning five genres. Her 1990 VMAs performance is yet another showcase of Jackson's live ferocity.
Additional text:
Elektra's baking-soda-burial job is inspired by the story of ballroom legend Dorian Corey, who kept a mummified corpse in her closet for at least 15 years. You can read the original New York story "The Drag Queen Had a Mummy in Her Closet" on Google Books (page 50), or the NewNowNextrecap here.
As for poppers, Pose may have its moral qualms, but the gay party drug is having a resurgence, with the advent of artisanal poppers like Double Scorpio. You can read about the contemporary video-cleaner renaissance as told by Mel Magazine.
Episode Four: "Never Knew Love Like This Before"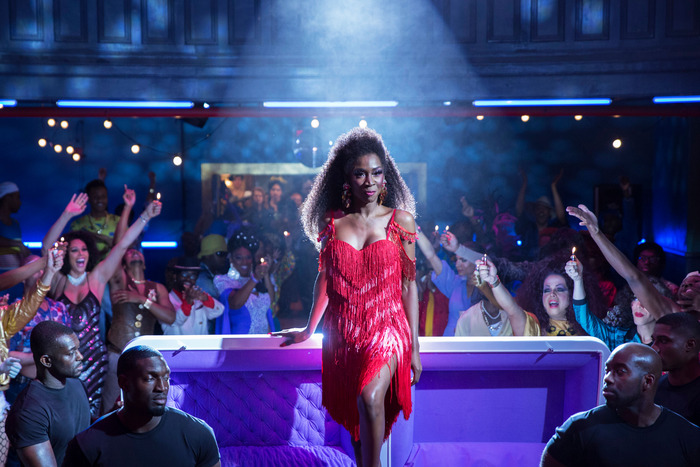 Even in 2019, "Never Knew Love Like This Before" is one of the only scripted depictions of an all-too-common tragedy: the death of a black trans woman. Human Rights Coalition reports that at least 11 black trans women have been murdered in the U.S. in 2019 alone, yet their stories rarely make it to the small or big screen.
Candy's murder evokes the death of Venus Xtravaganza, who was found strangled under a hotel bed on Christmas Day 1988. She was 23 years old. Xtravaganza's joie de vivre is captured in Jenny Livingston's essential documentary Paris Is Burning (available on Netflix), with reads like "touch all this skin!" made immortal onscreen. No matter how many times you've rewatched Paris Is Burning, which functions in many ways as Pose's Ur-text, the sudden mention of her death at the end of the movie is a devastating gut punch.
For more of the straight-up, hypertechnical vogue dancing from the opening ball, watch the documentary Kiki. The 2017 feature, set in NYC, effectively follows up on Paris Is Burning with looks at the contemporary evolution of the dance form and the community's response to AIDS and violence.
Additional text:
Ryan Murphy noted the structural influence of Bob Fosse's 1979 showbiz classic All That Jazz (Amazon), which, though far removed from the world of ballroom, packs the same punches in its high-drama exploration of grief and builds up to a similarly showstopping final fantasy number.
["source=vulture"]